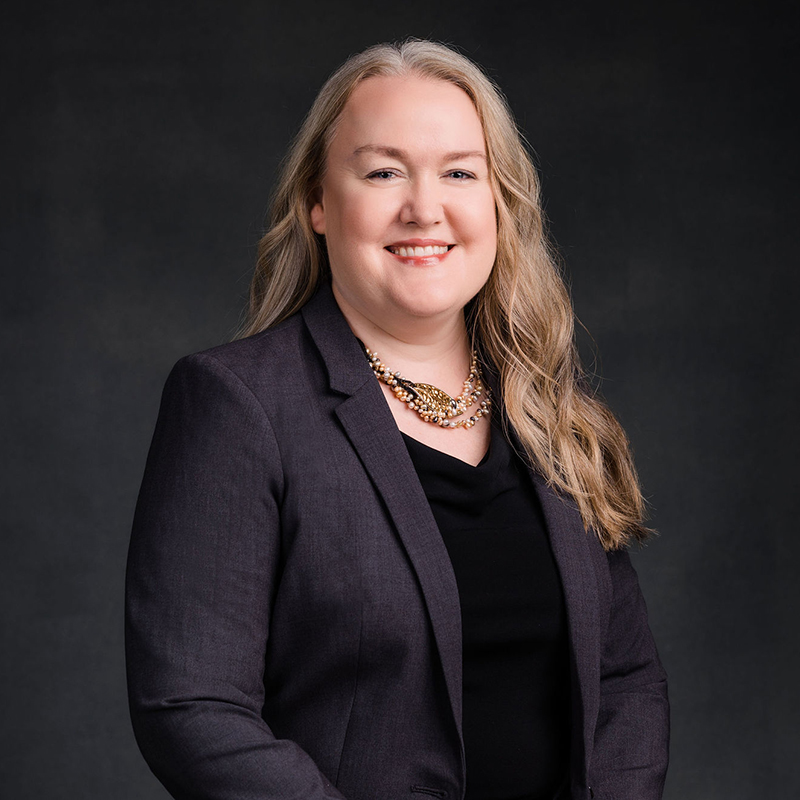 During her legal career, Sonja Aoun has developed extensive experience in the field of family law and works hard to protect her clients through the separation process and beyond. For over twenty years, she has helped families throughout Virginia resolve their legal matters and obtain peace of mind during some of life's most difficult times.  Recognizing the need for planning that extends beyond separation and divorce, Ms. Aoun offers estate planning to ensure families are able to protect themselves and their loved ones from financial disaster.
Ms. Aoun has earned the respect of clients and colleagues alike for her creative problem-solving, her effective trial advocacy, and the informed, compassionate, and ethical approach she brings to family and estate matters. She has a passion for helping families with a special commitment to finding solutions for children with special needs.
Her practice addresses all aspects of family law including separation agreements, divorce, custody, visitation, property division, child support, spousal support/alimony, premarital settlement agreements, post-nuptial agreements, enforcement of agreements, modification of orders, stepparent adoptions and adoptions of adult children. She has the experience and knowledge to effectively handle these matters from their inception through negotiation, mediation, trial, and appeal, as necessary.
Ms. Aoun is skilled in handling complex and highly nuanced divorce and custody cases. She has helped military families, state department families, and others facing relocation. She works with special needs families, blended families, LGBTQ families, high net worth families, and families with closely held businesses.
Ms. Aoun works with experts in the fields of real estate, special education, financial planning, vocational rehabilitation, immigration, and mental health to ensure her clients receive the best possible outcome.
In Ms. Aoun's estate planning practice, she prepares wills, powers of attorney, advance medical directives, and trusts to preserve her clients' wealth and ensure that their families are protected. As part of her estate planning practice, Ms. Aoun emphasizes planning for the future care of her clients' children, particularly those with special needs. For many families, arranging trusts, guardianships, and conservatorships is essential to safeguard their loved ones' futures. In such circumstances, Ms. Aoun provides careful guidance.
Ms. Aoun has been honored to be named to the Virginia Super Lawyers list every year since 2014 and to the Washington, D.C. Super Lawyers list since 2015. She received the Martindale-Hubbell Client Distinction Award in 2015 and maintains the highest available 10.0 rating on Avvo.com.
Ms. Aoun frequently speaks on various aspects of family law at seminars for separating families and at legal education courses for attorneys. She volunteers her time as a mentor for law students at the Georgetown University Law Center and serves as an attorney mentor with the Fairfax Bar Association's mentorship program. She is a dyslexia advocate, and she volunteers her time to support special needs families and alleviate homelessness and hunger. She and her children prepare monthly meals for The Lamb Center in Fairfax City and run a neighborhood food drive for families in Burke Centre.
Admissions
Virginia State Bar, 2001
District of Columbia Bar, 2002
Education
Georgetown University Law Center, Juris Doctor, 2000
Georgetown University Bachelor of Science, 1995
PAST AND CURRENT PROFESSIONAL ASSOCIATIONS AND MEMBERSHIPS
Washington Women's Leadership Institute (WWLI)
Ellevate DC
National Association of Professional Women
Women Building and Investing in Success (WBIS)
Virginia Women Attorneys Association
Virginia State Bar, Family Law Section
Volunteer Law Clerk, Ayuda Clinical Legal
Speaking Engagements
2016 Advanced Custody and Support Issues Conference, "Recent Developments on the Rights of Same Sex and Unmarried Couples: Practical Implications"
2015 NBI Family Law CLE Conference, "Relocation, Social Media Evidence, Same Sex Divorce, And Other Current Issues"
2014 Second Saturday Conference, "Legal Aspects of Separation and Divorce"
2014 Family Law from A to Z Conference, "Discovery in Divorce"
2014 Divorce Litigation from Start to Finish, "Pretrial Motions Practice and Settlement Strategies"
2013 Second Saturday Conference, "Legal Aspects of Separation and Divorce in Virginia"
2011 WBIS Fairfax Success Luncheon Conference, "What Every Small Business Owner Simply Must Know"
2010 Wills and Estate Planning Conference, "Three Documents and Why You Need Them"
Resources
Video Resources