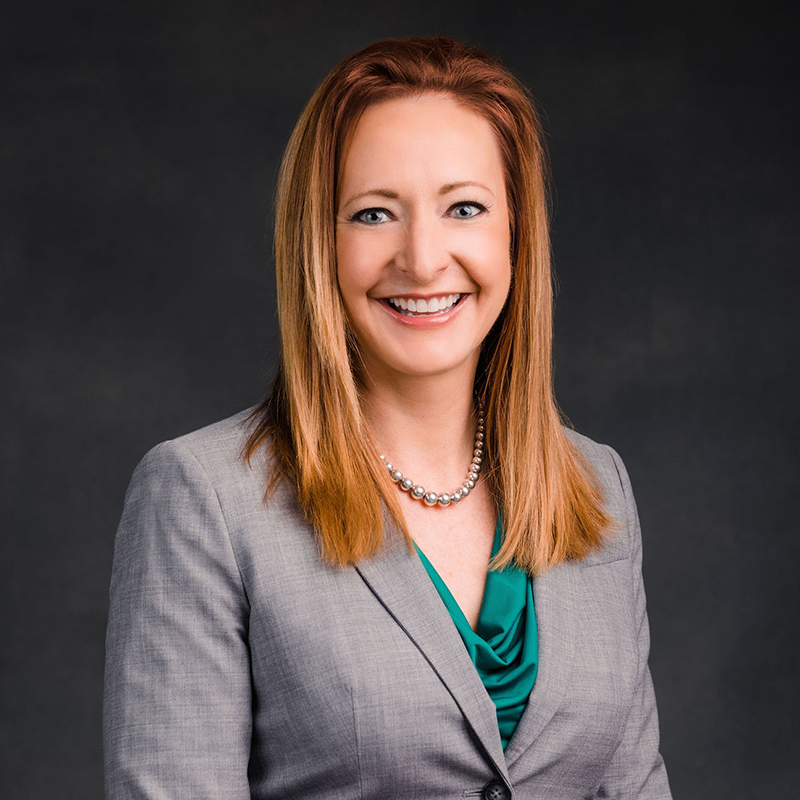 Amy Bradley is passionate about seeking justice for her clients. She zealously protects their interests while guiding them through the legal process with a compassionate and relatable approach. She works closely with her clients to strategize and achieve the best possible outcomes. Ms. Bradley's excellent work has been recognized by several organizations including SuperLawyers, Best Lawyers, and Arlington Magazine.
Ms. Bradley's experience includes more than 100 bench and jury trials in civil and criminal cases. In personal injury matters, she represents clients who have sustained life-altering injuries from the negligence or unlawful behavior of others. As a criminal defense attorney, Ms. Bradley represent adults and juveniles on matters ranging from traffic offenses to serious felony charges in both state and federal courts.
Before joining Briglia Hundley, Ms. Bradley worked as in-house counsel for one of the country's largest insurance companies. From this experience she gained the unique insight needed to maximize recoveries for injured persons. Her ability to see both sides of a case allows her to anticipate defense strategies and prepare accordingly. Similarly, Ms. Bradley's role as Deputy Town Attorney responsible for prosecuting crimes in the Town of Vienna provides her with experience on both sides of criminal cases.
Ms. Bradley's route to becoming a lawyer was unusual. She was inspired to attend law school while working as a television investigative reporter and news anchor. She was nominated for an Emmy in recognition of her outstanding coverage of a double murder trial. Her reporting on high-profile court cases sparked her interest in the study of law, and her experience as a television journalist enhanced her ability as an effective litigator.
Ms. Bradley is a devoted volunteer in the legal community. She has served on several Fairfax Bar Association committees, including co-chair of the General District Court Committee. She is a barrister of the George Mason Chapter of the American Inns of Court and participates in the Inns' international Pegasus Scholarship Program which hosts barristers from England as they tour the U.S. legal system. She is a member of the Virginia Trial Lawyers Association and the Prince William County Bar. She routinely provides pro bono legal representation to victims of domestic abuse through Legal Services of Northern Virginia's Attorney of the Day Program, and she recruits other volunteer attorneys to the program through her work on Legal Services' Steering Committee. Ms. Bradley also volunteers her time to support Wills for Heroes, the Devonshire Program which supports at-risk high school students, and the Middle School Speaker and Court Tour programs. In addition, she regularly cooks and serves breakfast at Prince William County's community shelter.
Ms. Bradley has authored articles published in Attorney at Law Magazine (available at: https://attorneyatlawmagazine.com/protecting-vulnerable-courts-closed-jails-health-risks), the Fairfax Bar Journal, and Docket Call. She has been named to Lawline's Top 20 Women Faculty for teaching Continuing Legal Education Courses to other attorneys. Comments from attorneys on Ms. Bradley's 5-star courses include, "One of the best speakers I have ever heard," and "This was an excellent course. The speaker was fabulous. Hands down the best training materials I've come across for protective orders, and I've been searching for a while." See https://www.lawline.com/course/shielding-the-abused-a-guide-to-protective-orders-in-virginia.
Areas of Practice
Personal Injury
Criminal Defense
Civil Litigation
Honors & Recognition
2021 Virginia Business Magazine, Legal Elite Outstanding Attorney, Civil Litigation
Listed in Washington DC and Virginia Super Lawyers, 2021
Listed as Top Attorney in Arlington Magazine, 2019, 2021
Listed in Best Lawyers in America, 2021
Listed in Super Lawyers as a Rising Star, 2015-2020
Admitted to the Litigation Counsel of America as an Associate Fellow
Selected by the National Academy of Personal Injury Attorneys as one of its Top 10 Under 40 Attorneys
Selected by Lawline as one of its Top 20 Women Faculty
Received the Fairfax Bar Association President's Award, 2018
Recognized by Legal Services of Northern Virginia's Rule 6.1 Society for commitment to pro bono work
Representative Cases
Case results depend upon a variety of factors unique to each case. Results in past cases do not guarantee or predict a similar result in any future case undertaken by the lawyer.
Personal Injury
Obtained confidential settlement for an individual whose medical records were wrongfully released.
Obtained $300,000 settlement for an individual who suffered a hand crush injury in an automobile crash.
Obtained $283,000 settlement for an individual who suffered fractured tibia and fibula and dislocated ankle following a motorcycle accident.
Obtained a $125,000 jury verdict for a client who suffered a shoulder injury in an automobile accident.
Obtained confidential settlement for individual illegally filmed in commercial business.
Obtained $175,000 settlement for child who suffered broken arm as a result of a fall.
Obtained the insurance policy limits for a client who suffered cuts and facial scarring in an automobile accident.
Obtained additional compensation for a client based on the bad faith conduct of the insurance carrier in initially addressing the claim.
Criminal Charges
Obtained a not guilty verdict following the trial of client charged with feloniously making threats to harm.
Obtained the pretrial dismissal of a felony malicious wounding charge on motion of the prosecutor after demonstrating the lack of sufficient evidence.
Represented an individual under investigation for felony sex offenses. After conducting an independent investigation and reviewing the case with the prosecutor, no charges were filed.
Obtained the pretrial dismissal of embezzlement, false pretenses, and larceny charges on motion of the prosecutor after investigation revealed a lack of evidence.
Other Representations
Obtained defense judgment while defending corporation in breach of contract action.
Obtained damages and attorney's fees for the victim of consumer fraud in lawsuit under the Virginia Consumer Protection Act.
Bar Admissions
Virginia
District of Columbia
Maryland
Court Admissions
U.S. Court of Appeals for the Fourth Circuit
U.S. Court of Appeals for the District of Columbia
U.S. District Court for the Eastern District of Virginia
U.S. District Court for the District of Columbia
U.S. District Court for Maryland
Education
George Mason University School of Law, Arlington, Virginia
Juris Doctor, May 2010
Activities:
Journal of Law, Economics & Policy, Senior Articles Editor
The Docket, News Editor
Phi Alpha Delta, Member
Trial Advocacy Association
University of Missouri-Columbia, School of Journalism, Columbia, Missouri
Bachelor of Broadcast Journalism, Minor in Sociology, Cum Laude, Dec. 2002